Wooden hot tubs bring an element of nature that other hot tub models can't offer. They have a charming uniqueness that makes them attractive. They are usually constructed from red cedar which is resistant to rotting. For centuries, red cedar has provided high-quality building materials for shelter, furniture, and housing. The chemical make-up, along with its insulating qualities and rich aroma make red cedar an ideal choice for hot tubs. Before you make a purchase be sure to research what materials were used and their quality. See Home Advisor for a detailed cost estimate.
Wooden hot tubs offer treatment for pain relief and muscle tension. However, they also improve your frame of mind. When you relax in a hot tub your tension and stress level decrease. Soaking in warm water increases your white cell count and improves your immune system. Using a wooden hot tub brings many benefits both physical and mental.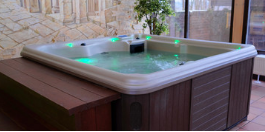 You may have been under the impression that wooden tubs pose a larger threat to bacteria because of its porous material. Although the wood is porous, the determining factor is the maintenance and cleaning of your hot tub. Acrylic tubs can be just as potentially unhealthy. You must make strict cleaning procedures a part of your normal routine. For more information on proper cleaning and maintenance refer to our previous post, Are You Ready For Hot Tub Season?
The wood tub typically surrounds the user with more water which increases the natural buoyancy than that of an acrylic tub. The diameter, as well as the depth, are more flexible because they can be customized to fit any area that you want as well as the location of the jets. Jet location is not an option available in acrylic tubs.
Be sure to research before making any purchase, whether its a wooden hot tub or an acrylic. Choose the one that is the best fit for your lifestyle and location.