When it comes down to it, one of the best ways to relax after a busy day is a soak in your own personal hot tub. These great additions to your home offer more than just relaxation though, providing opportunities to spend time with your family and entertain friends. With so much happening in and around your hot tub, safety should always be an extremely high priority for all hot tub owners. Things like keeping children from harm, maintaining safety equipment, and proper cleaning techniques, are pivotal to responsible hot tub ownership.
Children
Everyone loves a dip in the hot tub, and children are no exception! One of the best ways to enforce safety around your hot tub is to establish a set of rules, and make sure that children are aware of them before they are allowed to enter the hot tub. Some of these rules could include:
No Running

No Yelling

No Jumping/Diving

Keep Your Head Above Water

No Splashing
Talking about these rules to your family and guests and even posting them near your hot tub is a great way to enforce responsible hot tub use for children.
Even with a set of rules established, there is no substitute for good old-fashioned adult supervision. Having at least one alert adult who can keep an eye on children in and around the hot tub is the best way to make sure things stay safe and fun!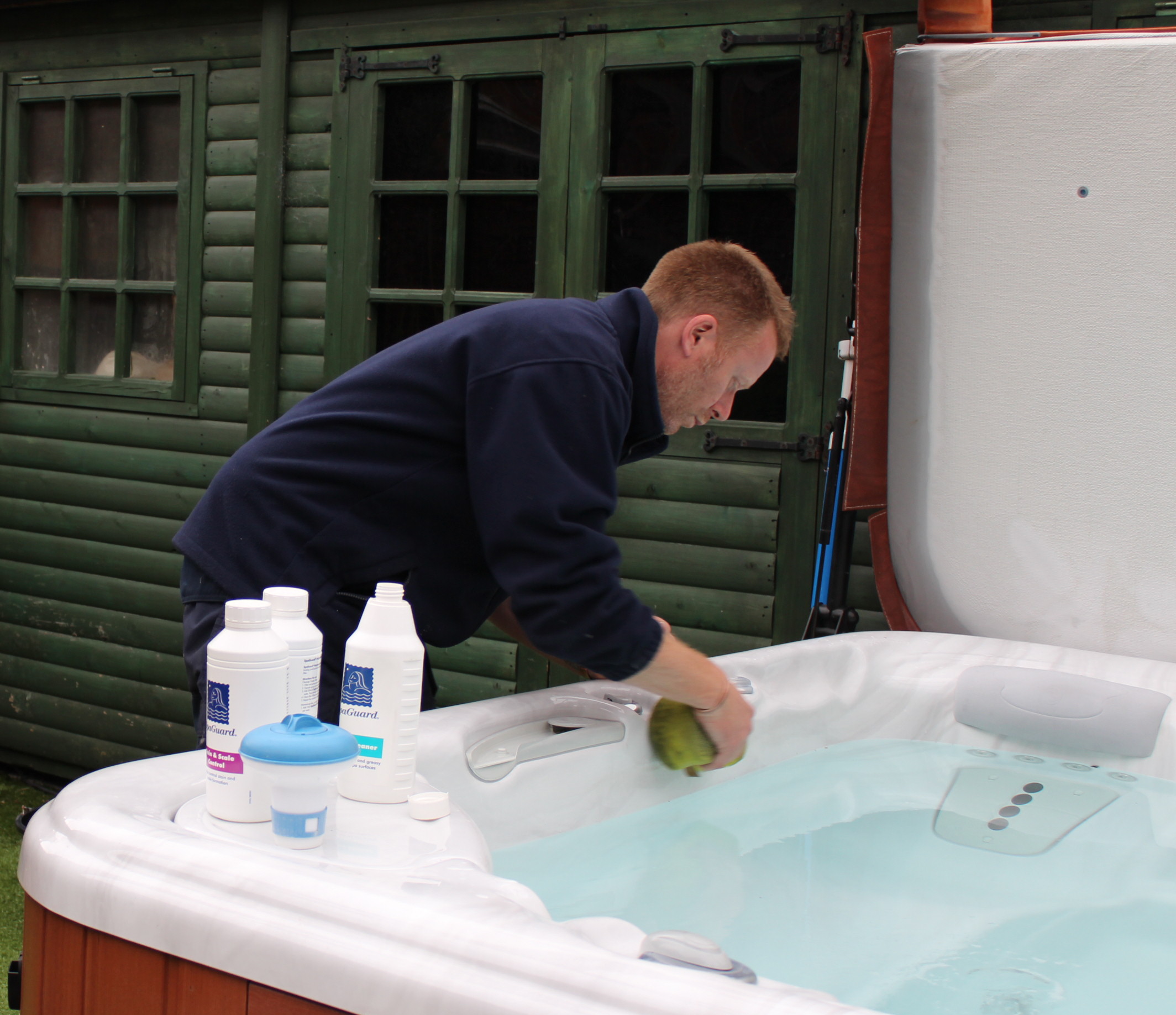 Cleaning
Keeping your hot tub clean is one of the most critical safety measures that you can take. Keeping a calendar or schedule for cleaning and maintenance is an easy way to make sure that your hot tub does not become a danger to you or your guests. By regularly cleaning and treating your hot tub, you will prevent things like:
Rashes

Bacterial Infections

Irritated Skin
Make sure that your cleaning schedule includes things like:
Drain and replace water 3-4 times per year

Weekly chemical treatments to prevent and kill bacteria

Clean hot tub filters

Flush all water lines

Clean hot tub surface and cover
While the cleaning routine and schedule may vary based on the model of hot tub that you have at home, these steps must be taken in order to promote safety and increase the longevity of your hot tub.
Hydration
One of the things that is often overlooked when it comes to enjoying your hot tub is hydration. The water in a hot tub heats your body and causes it to sweat without you realizing it. When you sweat, your body loses electrolytes and becomes dehydrated. Some of the major symptoms of dehydration include:
Fatigue

Dizziness and Confusion

Headache

Nausea

Rapid Heartbeat
Having drinking water nearby is a great way to be certain that you and your guests are safely staying hydrated while relaxing in the hot tub. As great as enjoying a nice cold beer or glass of wine in the hot tub sounds, alcohol needs to be consumed in extreme moderation as the heat can amplify its effects. Once again, drinking water regularly is the best way to combat dehydration.
According to the US Consumer Product Safety Commission water temperature in a hot tub should never exceed 104 degrees Fahrenheit. High temperatures can lead to safety hazards like drowsiness fatigue.
If you are planning on staying in the hot tub for more than 15 minutes at a time, it is always a good idea to decrease the temperature accordingly. Decreasing the temperature will reduce the effects of dehydration and allow you to safely stay in the hot tub for longer periods of time.
Temperature
Dehydration goes hand in hand with temperature control in a hot tub. Making sure that your equipment is maintaining a safe and enjoyable temperature is vital to keeping your guests safe.
One of the most important devices to check and maintain in your hot tub is the spa pressure switch. By opening and closing, this device helps to monitor that there is an adequate amount of water circulating through the heater tube. Maintaining the pressure switch is necessary in order to prevent the water pump from overheating and potentially heating the water to dangerous levels.
Replacing faulty or aging pressure switches with new ones like the HydroQuip pressure switch 34-0178 is a great way to alleviate this safety hazard and keep your hot tub running efficiently.
Safety Equipment
Even with the best of preparations, accidents can still happen. In the event of an accident, having the right safety equipment nearby can make a world of difference. Lifesaving equipment should be readily available and visible. Things that you should have around your hot tub include:
First Aid Kit

Flotation Devices

Emergency Numbers

Life Jackets

Rope
Taking the time to maintain a safe environment around your hot tub will ensure that you and your guests can enjoy the maximum relaxation benefits that a spa provides. Setting ground rules, maintaining equipment, and actively planning a cleaning schedule for your hot tub will ultimately increase the longevity of your hot tub, and in turn increase the fun!