So why would you want to upgrade your hot tub to a newer model? After all, they're built to last, so why should you bother considering it? The primary reason you would want to upgrade your hot tub is that advances in the ease of operation are made each year a new model comes out.
In the same way, improvements are also made as far as the effectiveness of the messaging jets. If you already own a hot tub and are enjoying those messaging jets already, then imagine how your enjoyment could be increased with upgraded/updated options. For more information see our previous post, How Hot Tub Options Have Evolved.
Maybe the reason for changing your hot tub is due to a change in your decorating taste or lifestyle. The last thing you would want is to have an amazing room with a modern flair, only to have an out-of-style hot tub detracting from the room's beauty. Your addition of a hot tub to a room should always enhance the room, not detract from it. So if your style and decorating tastes have changed, why not change your hot tub and continue the improvements all around?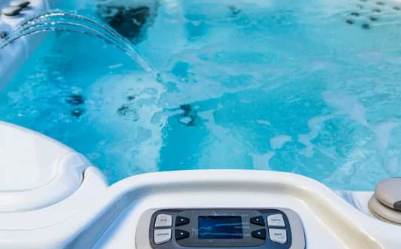 Every year when the newer models are offered, an improvement that is definitely worth thinking about trading up for is the ease of maintenance for your hot tub. Hot tub improvements over the past 30 years have moved past the times when they were mainly made of wood and were more difficult to keep clean and sanitary. If you didn't refinish the wood yearly as part of your maintenance then the wood could rot easily due to its exposure to the elements and chemicals.
Perhaps the best reason for upgrading your hot tub is that the newer models will almost always have some type of efficiency and energy savings improvement. If you're finding that your costs to keep your water temperature maintained keep going up over the years then you really want to consider researching the cost savings compared to the upgrade cost and decide if the upgrade would be a good fit for you right now.
This article is in no way trying to suggest that you should go out and buy the latest new and improved hot tub that has hit the market. That doesn't make good sense and is about as pointless as trying to keep up with computer technology so that you consistently have the latest and greatest system available. But, if you are finding that you keep spending more and more on hot tub repairs then normal, maybe it's time to trade-up.
Most dealers offer a trade-in deal that includes the removal and disposal of your old hot tub. It makes it easier when you upgrade if you don't have to worry about what to do with your old tub. For more information on hot tub disposal see Home Guides article. Upgrading your hot tub at least every ten years is a reasonable time frame.
#hottubpurchase
#hottuboptions
#hottubmaintenance